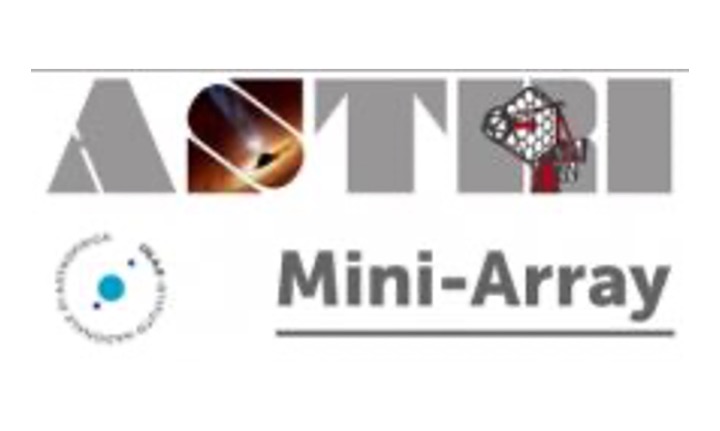 Principal Investigator:
Giovanni Pareschi
Local contact person:
Giuseppe Leto
ASTRI (Astrofisica con Specchi a Tecnologia Replicante Italiana) was born in 2010 as a flagship project of MIUR to support the development of technologies aimed at the construction of a ground-based astrophysical observatory for gamma rays within the project CTA (Cherenkov Telescope Array). CTA is an international project involving more than 200 institutions from 31 European and non-European countries; it will see the creation of two arrays of telescopes, one in the Southern Hemisphere and one in the Northern Hemisphere, of three different sizes to better cover the band of very high energies (TeV).
ASTRI has developed SST-2M, the prototype complete, so-called "end-to-end" telescope for CTA's Small Sized Telescope (SST) category. The 4.3 m primary mirror is made using the dowel mirror technique. The telescope's optics include, for the first time in a Cherenkov telescope, a two-mirror system, primary and secondary. ASTRI SST-2M was inaugurated at the M.G. Fracastoro Observatory Station of the Catania Astrophysical Observatory (Serra La Nave, Etna) on September 24, 2014, and was officially entitled to Guido Horn D'Arturo, father of the tessellated mirror technique, on November 10, 2018.
ASTRI-Horn made its first detection of a gamma-ray source, CRAB, between December 2018 and January 2019, achieving all project science goals.
ASTRI-Horn is a telescope completely designed and developed by Italian researchers, research institutes and companies. It is innovative in all its aspects: optical design (dual mirror) – mechanical design – segmented primary optics (INAF technology for quality optics at low cost) – high efficiency imaging camera and resilience to overexposure (developed in INAF on SiPM silicon sensors) – firmware and software for the management of all systems.
ASTRI is engaged in the construction of the ASTRI Mini-Array, a set of 9 telescopes, whose configuration is based on the design of the ASTRI-Horn prototype, but with some improved and optimized aspects. ASTRI is engaged in the construction of the ASTRI Mini-Array, a set of 9 telescopes, whose configuration is based on the design of the ASTRI-Horn prototype, but with some improved and optimized aspects. The ASTRI Mini-Array is being installed at the Teide Observatory on the island of Tenerife (Canary Islands) and represents the first system of atmospheric Cherenkov telescopes completely dedicated to the study of very high energy gamma-ray emission (1 – 100 TeV) from cosmic sources (this spectral band is very important to address some aspects of astrophysics still unsolved, in particular the origin of cosmic rays that are thought to be emitted by young supernova remnants). The ASTRI mini-array represents in turn the precursor of the array of 40 SST (Small Size Telescopes) that will be implemented in Chile, in Paranal, within the Cherenkov Telescope Array Observatory (CTAO).
The INAF Astrophysical Observatory of Catania is deeply involved in the collaboration since the beginning of the project in different fields: project development and prototype location, Cherenkov chamber development, software development, prototype maintenance and finally activity management.
Main other institutes involved besides INAF
IAC  Canarie
IASF Milano
IASF Palermo
IRA Bologna
OAS Bologna
OABrera
OACatania
OAPadova
OARoma
Politecnico di Milano
University of Genova
University of San Paolo del Brasile/FAPESP
University of Sud Africa North West University.
Formally participate also:
University of Perugia
University of Padua – Department of Physics and Astronomy
University of Catania
University of Insubria (Como) – Department of Physics – PhD School in Astronomy
OACT people involved in the project:
Giuseppe Leto (ASTRI-Horn Responsible, ASTRI Mini-Array Atmospheric Monitoring and Characterization), 
Giovanni Bonanno
(Astri-Horn Chamber Co-developer, Responsible for characterization of ASTRI Mini-Array detectors – the 
COLD
 lab), Alessandro Costa (Co-Responsible SW development for ASTRI MiniArray), Giancarlo Bellassai, Pietro Bruno, Antonio Distefano, Salvatore Garozzo, Alessandro Grillo, 
Davide Marano
, Eugenio Martinetti, Antonio Micciché, Gaetano Carmelo Nicotra, 
Isabella Pagano
, 
Giuseppe Romeo
, 
Eva Sciacca
, Ricardo Zanmar-Sanchez
No Results Found
The page you requested could not be found. Try refining your search, or use the navigation above to locate the post.
Osservatorio Astrofisico di Catania
Via Santa Sofia 78, 95123 Catania, Italia
(+39) 095.7332111
segreteria.direzione.oact@inaf.it
(PEC): inafoacatania@pcert.postecert.it
Per informazioni sul nostro sito: web.oact@inaf.it
Per informazioni sulla didattica e divulgazione: divulgazione.oact@inaf.it